Hello everyone! Welcome to my website. I started experimenting with music composition at the age of 14 while I was in my 3rd year of piano instruction. All through High School I became obsessed with creating my own music. In college I took all the theory and composition classes etc.etc. I could handle.
During those times I sang Bass with three Choral organizations in which I developed a great love for choral music. On this particular website I've included a few midi files as examples of my composition abilities and style. Your feedback is appreciated and any request for an original composition for you or a group will be taken into consideration.
My Favorites
Favorite Band or Musician: Tallis Scholars
Favorite movie: Amadeus
Favorite book: Bible
Favorite food: Fuji Apples
My Hobbies
Aside from composing music, I like to play cribbage, 500 Rummy, UNO, various board games, and billiards.
I love to travel, preferrably by car as opposed to flying because I can see so much more of the country and I can take what I need with me without being inconvenienced at airport security.

Most Admired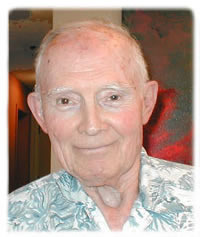 My Composition Professor, Rowan S. Taylor (1927 - 2005) http://www.classical-composers.org/comp/taylor_rowan